Can I Sue my Insurance Broker for Failing to Make Sure I had Adequate Coverage?
Anyone selling insurance, whether it is an insurance company, insurance broker, or insurance agent, is obligated to ensure consumers purchasing policies understand the available options and choices for insurance coverage. Accordingly, failure to ensure that a consumer, who is interested in purchasing enhanced coverage is meaningfully informed, can lead to legal liability. This post focuses on automobile insurance in Ontario, but the principles are applicable to other types of insurance.
In Ontario, everyone who operates a motor vehicle has to purchase automobile insurance. The insurance policy that gets placed is called the OAP 1, and it provides exactly the same coverage for everyone in the province. The OAP 1 provides basic coverage to respond to claims against at-fault drivers who cause accidents, and the OAP 1 provides no-fault, statutory accident benefits, which consumers can access from their own insurers.
Over the last decade, the no-fault statutory accident benefit coverage has been dramatically slashed. Indeed, the coverage available today is a fraction of what it once was. The Ontario Government and Insurance Bureau of Canada have taken the position that consumers now have "options" and "choices" with respect to their insurance and that they are free to increase their coverage if they so desire.
However, the problem is that many people are not aware of the availability of optional benefits, what they cover, and how much they cost. It is often not until after an accident that consumers first learn how limited their coverage actually is. At that time, lawyers are often asked if there may be a claim against the person who sold the insurance policy in the first place.
Fortunately, the law is relatively favourable to those who were not properly informed of the availability of optional benefits. The Courts have held that for options and choices to be meaningful, consumers must be fully informed about what enhanced coverage is available for purchase. Justice Reid in Zefferino v. Meloche Monnex Insurance, 2012 ONSC 154 (CanLII) held that optional benefits must be explained to consumers in a "meaningful way". This requires that "…consumers [sic]… be given an understandable alternative which would allow them to measure the need for more coverage against risk and cost."
To place Justice Reid's comments in context, his ruling means that insurance sellers must first advise consumers of the types of optional coverage available, and then provide some sense of what it would cost to place the coverage.
Note that the consumer must then prove that he or she would have purchased the optional benefits if they had been meaningfully offered. This means that those consumers shopping for the cheapest premium and who show no interest in enhanced coverage will have a difficult time establishing that the insurance seller is liable.
The chart below demonstrates the basic OAP 1 no-fault statutory accident benefit coverage for medical rehabilitation and attendant care benefits in blue, and the optional coverages available in green, red, and purple.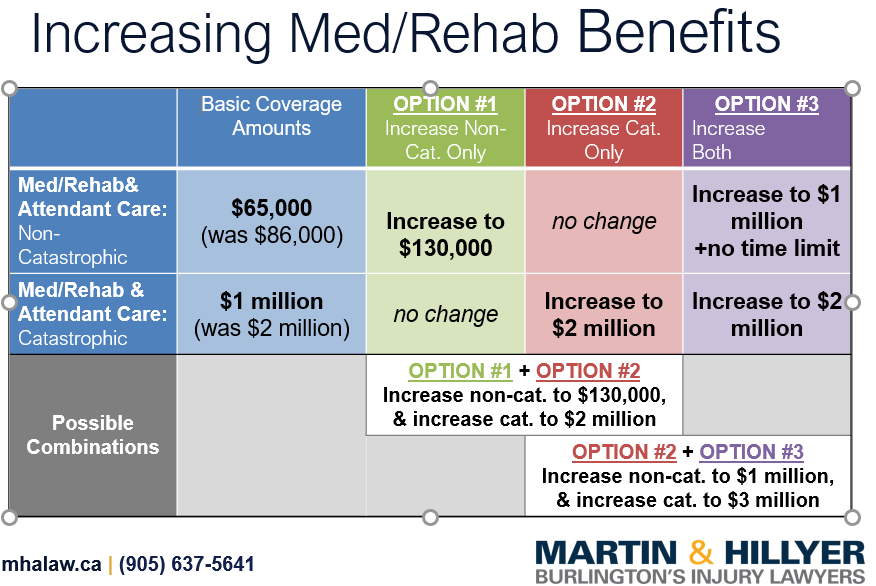 Interestingly, the cost to purchase optional benefits is relatively modest, especially when one considers that the minimal additional charge is being spread over the entire year! For example, a local Burlington insurance broker recently advised that the cost to increase the medical rehabilitative coverage available for a non-catastrophic injury from 65,000 to 130,000 (green box) is in the range of $20 a year. The cost to increase coverage for a catastrophic injury from 1 million to 2 million (red box) is in the range of $15 a year.
Similarly modest premiums are available to those interested in purchasing additional income replacement benefit Income Replacement Benefit coverage, as well as enhanced liability (including underinsurance) coverage.
The bottom line is that anyone selling insurance to a consumer who does not properly inform the consumer of the options available, and costs associated with same, is vulnerable to being sued if that consumer is subsequently involved in an accident for which there is inadequate insurance coverage.