For most people, the world of lawsuits, lawyers, retainer agreements, insurance benefits and court rooms is completely foreign until they are suddenly thrust into it against their will after being involved in an accident.
Navigating this world can be a stressful and bewildering experience for injured people, and it is made even more difficult when law firms employ misleading marketing or confusing business arrangements.
To help ensure you are fully informed about the relationship you will be starting with your lawyer, here are three simple questions you should consider asking any injury lawyer you meet with (including us!) during your initial consultation:
1. "Did I choose you, or did you choose me?"
Okay, this one is a bit rhetorical – but if you are contacted out of the blue by someone on behalf of a law firm, ask them how they found out about you. And if someone like one of your treatment providers or a tow-truck driver wants to put you in touch with a law firm, ask the person if they have any financial interest in making the referral before you consider their recommendation.
Lawyers are prohibited from paying money to non-lawyers in exchange for referrals, and treatment providers & others should not be violating your privacy by sharing your information with law firms to allow the firms to come seek you out.
Choosing a lawyer is not something you should do because of pressure or sleazy (and privacy-violating) solicitation. If you need a lawyer, take the time to research some local firms, speak to family & friends to get personal recommendations, and select a firm that seems like the right fit for you.
Martin & Hillyer's Answer
We never pay referral fees to non-lawyers, and we don't show up unsolicited in hospital rooms trying to take advantage of an injured person's vulnerable situation to win their business.
Most of our clients choose us because of personal recommendations from our former satisfied clients, or because of recommendations from other lawyers who believe we will be able to provide excellent service for their clients.
Others choose Martin & Hillyer because they know us from our community, or because they have researched local options and appreciate the mix of experience, personal injury expertise and individualized service that our firm prioritizes.
We don't choose you – we want to give you reasons to choose us.
---
2. "Who am I hiring?"
Make sure the firm you contact is actually the one that will be taking your case!
Some of the legal advertising you see may come from firms that act largely as referral services or, as a 2016 report for the Law Society of Upper Canada described them, "brokerage houses." When you contact one of these firms, instead of hiring the firm you think you're hiring, your file may end up getting referred out to another lawyer you've never heard of in exchange for the brokerage getting paid a referral fee.
And it's not just brokerage houses you need to worry about. Fake law firms and misleading websites are a real problem for people looking for local legal advice. If you google personal injury lawyer burlington, for example, as of the date of this article, at least two of the top results are for "firms" that purport to be local Burlington law firms, but that, upon closer examination, don't appear to actually exist anywhere! These websites are likely just referral fronts for one or a few large, out of town firms.
Make sure you know who you are hiring! During your initial meeting, make sure to confirm:
that the firm you contacted is the one you are hiring
who your actual lawyer will be
where your lawyer will be located
if any referral fees will be paid for your file, and why
Martin & Hillyer's Answer
We never use brokerage services to gain clients. Our clients come to us because of personal recommendations from our former clients and other lawyers, because they know us from our community, or because they are actively seeking out local legal expertise and come across our firm. And when a client contacts us for legal assistance, that is who they are getting – a real law firm, providing real services, located in downtown Burlington.
If we ever pay or receive a referral fee on a file, we ensure that we are in strict compliance with the Law Society's stringent rules for these fees, and that we are completely up-front and transparent with the client about the fee. You have the right to know if a fee will be paid on your file, to whom, and why!
---
3. "Are you really local to my area?"
It's not unusual for law firms to advertise services in regions to which they have very little connection. The firm may be from a big city some distance away with no connection to your area, or it may just rent a meeting room to maintain a bare-minimum local presence in your area so the firm can still claim to be "local." On the other hand, other firms may be big enough that they operate a real 'satellite' office with lawyers in your area.
When it comes to choosing a personal injury lawyer, local matters! You want a firm that:
will be easily accessible for you to meet with your lawyer often throughout your case
has strong roots in the local legal community
has close connections with local medical and rehabilitation professionals
is familiar with the court procedures in your area
won't have to incur huge costs to travel to and from your area
provides the sort of personal and individualized service that smaller, local firms often specialize in
There are certainly legitimate reasons you might make a considered decision to go with a lawyer from another region, like a personal recommendation or a lawyer's special expertise.
But you want to be sure you are making an informed decision if you plan on choosing an out-of-town lawyer, and should not be fooled by misleading advertising or virtual offices. Find out if a firm – and your lawyer in particular – is truly local to your community before you make the decision to go with them.
Martin & Hillyer's Answer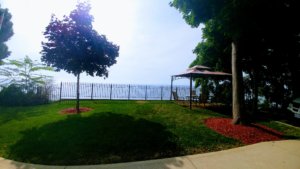 We are a proudly local law firm located in downtown Burlington, Ontario. The only time we could be said to operate a "satellite office" is when we take a laptop and sit outside in our backyard to do some work. (With a view like this → how can we not?)
Most of our clients come from Burlington, Halton Region (including Milton, Halton Hills and Oakville), or Hamilton. Because of our focus and expertise in personal injury law, we do often get clients referred to us from outside this region, and we regularly serve clients all across southern Ontario including in Niagara region, Brantford & Simcoe area, Mississauga, Toronto and beyond (including international clients who are travelling in Canada).
But at the core, we don't pretend to be something we are not: we don't operate fictional "virtual offices" or stretch our practice too thin across the whole province: we are proud to be first and foremost a local firm serving the community we've grown up in over the past 45+ years.
---
Burlington Personal Injury Lawyers
If you are looking for a personal injury lawyer after suffering an accident or injury, we can help. Our local lawyers will take the time to understand your unique circumstances and priorities in order to give you the personalized advice you need to reach your recovery goals.
Get in touch to arrange a free, no-obligation consultation where you can get answers to all your questions about working with a lawyer and find out how we can help you.