On November 25, 2016, the personal injury lawyers at Martin & Hillyer Associates presented a talk to Hamilton Health Sciences staff at the General Hospital entitled, You Can't Always Get What You Want – Or Can You? Dealing with the 2016 Car Insurance Changes.
Focusing on the Ontario government's recent cuts to the medical, rehabilitation and attendant care benefits, Stephen Abraham, David Hayward, Claire Wilkinson, Laura Hillyer, James Page and Kennedy Nolan provided an overview of the cutbacks and looked at what consumers on the one hand, and healthcare & legal professionals on the other, can to do deal with the changes.
Starting June 1, 2016, the protection that your car insurance provides was reduced in two key ways:
drastic cuts to the amount of insurance coverage available to help you recover from and live with injuries after an accident
changes that make it harder to qualify for enhanced benefit coverage for the most serious "catastrophic" injuries
As a result of these cutbacks, your insurance now provides you with much less than half of the coverage it used to. (Are you paying half as much? Probably not – but that's another story.)
What Can We Do?
Consumers can purchase optional benefits to buy back some of the coverage they have lost. It's a good idea to talk to your insurance broker about choosing the right options for you to enhance your coverage.
In this presentation, you can learn about some of the specific options available to you, find out exactly how cheap these options are to add onto your policy, and find out what we recommend to ensure you are protected.
Here is a sample of the 5 options available to you to enhance your medical, rehabilitation and attendant care protection, along with estimates that we got from an insurance broker of the cost to purchase this extra coverage: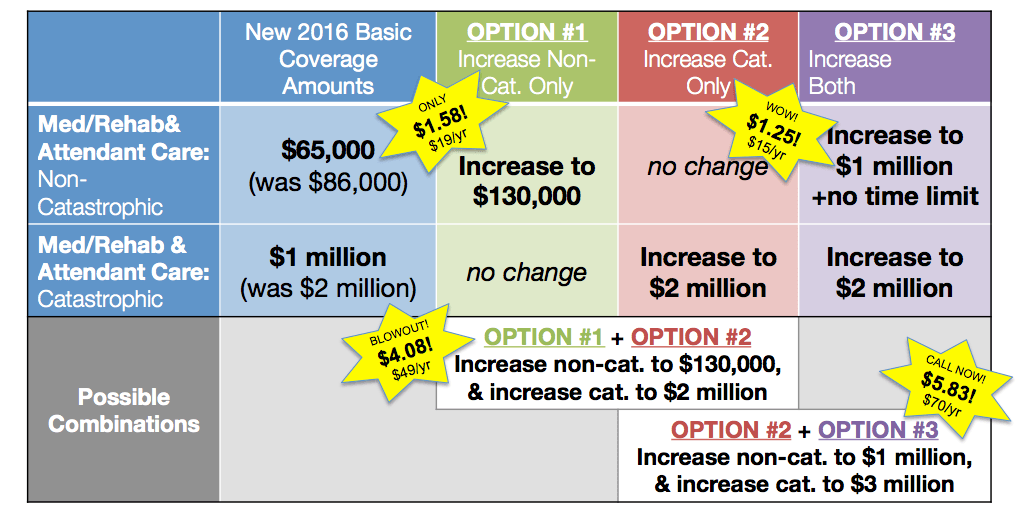 WILL THE EXTENDED GLASGOW OUTCOME SCALE HELP MORE PEOPLE WITH BRAIN INJURIES ACCESS "CATASTROPHIC" COVERAGE?
Meanwhile, lawyers and healthcare professionals need to deal with the changes that make it more difficult to secure enhanced benefits for their seriously injured patients and clients.
The new definition of "catastrophic impairment" since 2016 will exclude many people who previously could have accessed higher levels of benefits due to the severity of their injuries.
Unfortunately, there is no optional benefit you can buy to restore the old definition of "catastrophic impairment," so it's up to the professionals who help you after a car accident to learn how to use the new tools provided in the revised legislation to ensure injured people have access to the benefits they need.
In this presentation, you can learn about one of the promising new tools – the Glasgow Outcome Scale – Extended and how it might provide a way to secure coverage for those who suffer a brain injury as a result of a car accident.
The ongoing cutbacks to benefits for Ontarians who are injured in car accidents are already having devastating impacts on accident victims. Meanwhile, insurance companies continue to make record profits. Don't stay silent – contact your MPP to ask them to start protecting the rights of accident victims instead of the profits of big insurance companies.
While you're at it, make sure you take the time to review your own coverage to ensure you have the protection you need – another few dollars a month can mean the difference between recovery and a lifelong impairment & financial ruin.
And finally, if you work in a profession helping accident victims, make sure you are familiar with the new legislative changes and have considered how you can use them to help your clients and patients access the care they need.
---
Burlington Car Accident Lawyers
If you have questions about car accident benefits and catastrophic injury protection, or if you would like more information about this presentation, get in touch with the personal injury lawyers at Martin & Hillyer Associates.