As they always say, children are the future! That's why it's so important to us that we keep them healthy, happy and as safe as possible.
Local personal injury lawyers from Martin & Hillyer Associates, Ontario Trial Lawyers Association (OTLA) and community partners donated and gave out the helmets during the Helmets on Kids Event on Thursday, June 16th.
The helmets were given to the children as a part of the Helmets on Kids campaign. The campaign seeks to put a helmet on the head of every child who is in need of one. The helmet was given alongside a pamphlet that included simple visual instructions as to proper use and safe fitting of a helmet. There was also an interactive presentation for the schoolchildren about proper safety and injury prevention, brain function and the anatomy. This way, the kids are able to bring home their new helmets and guides on safe use to practice with their families.
The Ontario Ministry of Health reported that during 2006 to 2010 roughly 93 per cent of cyclists under the age of 18 who were killed in cycling collisions were not wearing a helmet. Those numbers are devastating. This makes it even more crucial to help practice safe play with our kids.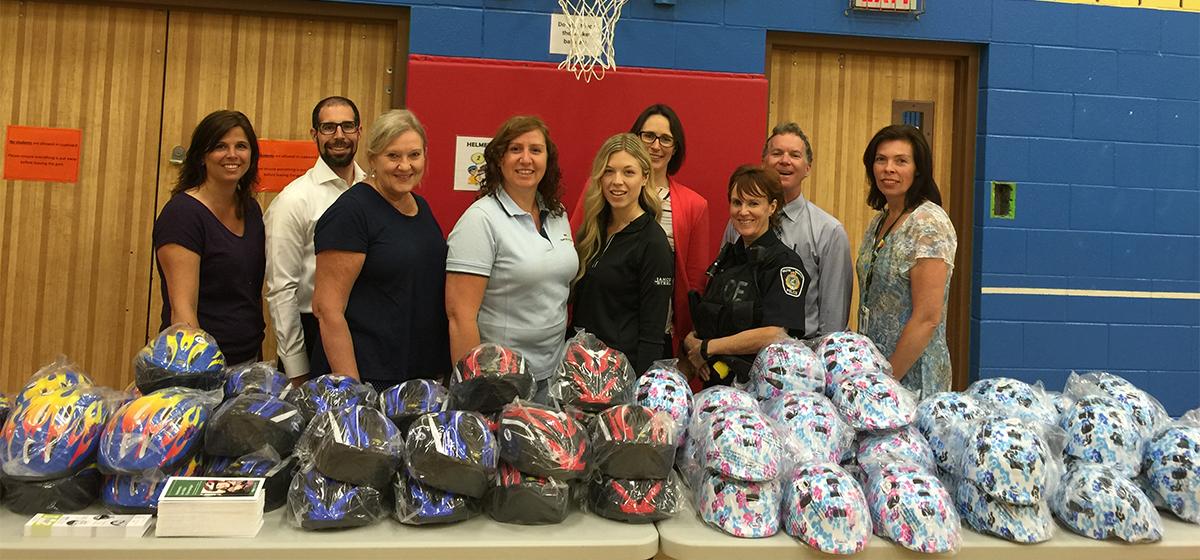 More About Helmets on Kids
Helmets on Kids initially started in 2002 in London, Ontario. It began as a joint project of OTLA and the Brain Injury Association of London and Region (BIALR). The first helmets were presented to students of the Thames Valley District School Board. Since then, the project has expanded exponentially. Over 25,000 children in need have received helmets and learned how to safely use them with help from Helmets on Kids across Ontario.
The Helmets on Kids webpage provides a bounty of useful information regarding safe helmet use.
For a bike helmet to be recognized in Canada it must meet Canadian Safety Standards. A sticker inside of the helmet will indicate if it meets the standards with an indication of the following:
CSA (Canadian Standards Association)
CPSC (Consumer Product Safety Commission)
SNELL (Snell Memorial Foundation)
ASTM (American Committee for Standardization)
You should replace an existing helmet if:
It has been involved in a crash
It has been dropped hard on the ground
The straps feel loose when in use
It is cracked
The foam is deteriorating
It is too small or tight
It is 5+ years old
You and your children should always wear and use helmets as recommended by the manufacturer. Remember to always play safe!
Special Thanks
Martin & Hillyer Associates and the Ontario Trial Lawyers Association are very appreciative of the generous support of their sponsors. A special thanks goes to:
BIAPH (Brain Injury Association of Peel and Halton)
Halton District School Board
Halton Regional Police
Halton Healthcare
Will Davidson LLP
Stevenson Whelton MacDonald Swan LLP
Without the help and support of initiatives and programs like Helmets on Kids, thousands of children might not have access to a safe and properly fitting helmet.
Now enjoy the beautiful weather and play safe!
Click here for more information on the event.