Are you the "best personal injury lawyers in Burlington"? Are you "award-winning"? Are you the "top lawyers in Halton"?
Of course we're not – nobody is! What do these labels even mean??
Problematic marketing of legal services in Ontario – especially personal injury services – has been in the news a lot recently. Concerns have been raised that some advertising techniques break rules set by the Law Society of Ontario, that they mislead potential clients, and that they are just plain tacky and in bad taste. Using these problematic techniques to target injured people who are looking for a lawyer to help them at a difficult time is especially distasteful.
So we've prepared this guide to legal marketing mumbo-jumbo to help you see through the nonsense and the jargon, and understand what does and does not matter when you are looking for a personal injury lawyer.
---
CLAIM #1: "The Best!" or "Number 1" or "Top lawyers in the galaxy!"
WHAT YOU SHOULD DO WITH IT: Completely ignore!
There is no such thing as the "top" or "best" or "#1" lawyers in a region or in a certain practice area.
There is no "best personal injury lawyer" out there, and no law firm has the "top lawyers" in a certain city. There is no reputable formal ranking of lawyers that we've ever heard of, and you should be very skeptical of any organization that says it ranks lawyers and selects the best. What is the methodology? Who voted? What did they take into account? Who was eligible? And most importantly, did the winners have to pay for their ranking?
In almost all cases, these terms are completely meaningless and you should simply ignore them. You should be skeptical and ask questions any time you see rankings like this in a law firm's marketing.
---
CLAIM #2: "Award winning!" or "7-time platinum award recipients!"
WHAT YOU SHOULD DO WITH IT: Be very skeptical and investigate further.

There aren't all that many real, meaningful "awards" given to lawyers – and almost none given to entire law firms.
Significant, meaningful awards are most often given to lawyers by local or regional law associations, like the Halton County Law Association, or by respected legal organizations like the Ontario Trial Lawyers' Association.
If a lawyer or law firm says they are "award winning," make sure you find out where the award came from, and what the award was for – is there really anything meaningful behind the award, or is it just a title they have paid for?
Google the organization that is said to have granted the award and find out how the awards are given. If you can't find the organization, can't figure out what the organization actually does, or if it looks like the only thing it really does is hand out awards, those are all good signs that you should be very skeptical about the award!
---
CLAIM #3: "Voted the best in our community!"
WHAT YOU SHOULD DO WITH IT: Can consider, but take with a grain of salt.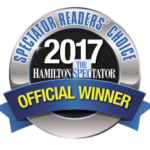 Some awards are meaningful, but only in a specific context.
For example, we are actually quite proud of our repeated Readers Choice Awards in the Hamilton Spectator, because these awards are based on votes by real people in our local community.
However, we don't pretend these awards are more significant than they are – awards like this don't mean that we are qualitatively superior to other lawyers out there. They are at best a reflection of our connection to and our recognition in our local community.
---
CLAIM #4: "As seen on TV!"
WHAT YOU SHOULD DO WITH IT: Roll your eyes.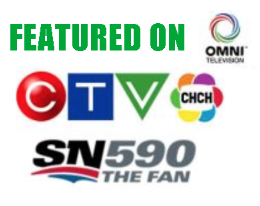 *sigh* Do we really have to address this one? What are you, are you a law firm or a late-night infomercial gadget?
What does this even mean? That a firm runs ads on those stations? And that should impress you because…?
Yes, like many other local businesses, our firm has run ads on local TV and radio stations from time to time. We hope this helps get our name out in our community – but that is not in and of itself a reason to hire us, nor any other firm!
---
CLAIM #5: "Recognized in Best Lawyers!"
WHAT YOU SHOULD DO WITH IT: Can consider, but remember what it actually means.

One particularly tricky award is the "Best Lawyers" designation you may have seen on some lawyers' websites. In our firm, for example, both Bruce Hillyer and Stephen Abraham are listed by "Best Lawyers." "Best Lawyers" is a real publication that recognizes lawyers who have longstanding expertise in a certain area. Lawyers who have previously been recognized with a "Best Lawyers" title can vote on nominees every year, so winning a "Best Lawyers" designation does indicate a degree of respect among your peers, and name-recognition in your practice area. You can read about the "Best Lawyers" recognition process here.
However, the name "Best Lawyers" is a misleading – being listed by this publication does not mean that a lawyer is in fact 'the' best, nor even 'one of the' best lawyers in an area. The listing simply means that a handful of the lawyer's peers have recognized him or her as one of many who is experienced and competent in his or her area.
---
CLAIM #6: "Specialist" and "Certified Specialist"
WHAT YOU SHOULD DO WITH IT: Can definitely consider, but clarify what is meant and confirm designation.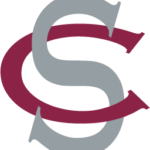 This is a tricky one.
The title Certified Specialist is the only regulated title that identifies the special skill, experience or qualification of a lawyer in a certain practice area.
In our firm, Stephen Abraham is a Certified Specialist in Civil Litigation.
The Law Society of Ontario regulates this title, and there are strict criteria for eligibility, including minimum years of experience and demonstrable expertise with all aspects of the legal process in a certain practice area. Lawyers are forbidden from suggesting they are Certified Specialists unless they have been granted this designation from the Law Society.
So "Certified Specialist" is one label you can definitely take into account when researching lawyers.
Where it can become a bit unclear is when lawyers use the word 'specialist' or 'specialize' in a purely descriptive way regarding specific areas of law that do not have a formal "Certified Specialist" designation. Examples include lawyers referring to themselves as "personal injury specialists," "specialists in insurance litigation," or "lawyers specializing in car accident claims."
The rules around using the words "specialist" and "specialized" in this way are a bit hazy. In our firm, most of our lawyers do "specialize" their practices in the area of personal injury law, and so, from a purely descriptive standpoint, we do consider ourselves to be "specialists" in the area of personal injury litigation. However, describing the focus of our practice in this way does not mean that all of our lawyers have formal designations as Certified Specialists – and, in fact, they couldn't, because there is no such thing as a "certified specialist in personal injury law"!
Because of this confusion, we try to avoid using these words when describing what we do, but we admit that we have probably slipped up here and there – the fact is that it is hard to describe the highly focused practices of our lawyers, which are restricted primarily to personal injury litigation, without occasionally falling back on convenient words like 'specialize.' But, whether you are reading about our firm or other lawyers, we think it's important you understand the distinction between a "Certified Specialist in Civil Litigation," and lawyers whose practices happen to be "specialized" in a certain area.
If there is any uncertainty about whether a lawyer is a Certified Specialist, it is easy to check. Click here for a complete list of the 286 (as of the date of this article) Certified Specialists in Civil Litigation in Ontario.
---
CLAIM #7: "Million dollar settlements!" or "Largest awards in Canada!"
WHAT YOU SHOULD DO WITH IT: Completely ignore!

Settlement and judgments paid out in a personal injury lawsuit are about how much compensation an injured person needs to 'make them whole' again.
Any remotely competent lawyer might settle a case for a badly hurt client who has millions of dollars in losses. All that tells you is that their client was very badly injured – it doesn't tell you anything about the quality of service or representation provided by the lawyer, and it doesn't tell you whether the lawyer got a better or worse result than another lawyer would have obtained for the same client. If the potential value of the claim was $2.5 million but the lawyer settled for less than half that, suddenly that $1 million result doesn't look so good!
It's because of the misleading nature of statements like these that the Law Society prohibits lawyers from referring to amounts recovered for their clients, without accompanying the statement by an explanation that an amount recovered in one case has nothing to do with the amount someone else's case might be worth. However, we have noticed this rule is not always followed in the legal marketing we see around us.
We don't think you should choose a lawyer because some of their other clients were badly hurt – you should choose a lawyer who will do the hard work to ensure you recover the full value of your losses, whatever they may be in your case, while providing you with great service and support along the way.
---
IN SHORT
There are plenty of dubious marketing strategies out there – too many to cover them all in this one article. If you are looking for a personal injury lawyer, the main thing to keep in mind is that it's important to ask questions and do your research to make sure you are hiring your lawyer for the right reasons.
We aren't the best lawyers in the universe, and we won't promise you a billion-dollar settlement. But we will promise to provide you with excellent & honest service, personal attention & support, and to use our considerable experience & expertise in the area of personal injury law to attain the best results we can for you in your case.